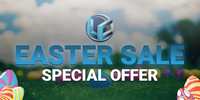 ​
Hey all,
It has been a while since I have written any news. As some of you may know; I have been in the process of moving. This is quite a large underaking considering the size of my operations.
Regardless of such; my move is almost completed and I will restart basically full-time development. There are lots of projects in the works(such as the universal cheat / universal aimbot) which I am excited to share with you.
In the meantime we have a sale for Easter. I wish everyone a happy and blessed easter, as most of you should know; we could all use some blessings with what is going on in the world today.
The CSGO Cheats / CSGO Hacks are on sale as well as the HL2 Cheats, HL1 Cheats, CS1.6 Cheats, CSS Cheats, HL2DM Cheats, TF2 Cheats, CZ Cheats, DOD Cheats, DODS Cheats, etc
Most of these are orgnaized into 3 different packages (CSGO Cheat Package, HL1 Cheat Package, HL2 Cheat Package); all the sale items are listed below.
The discount is FOURTY PERCENT (40%) Recurring monthly. So this discount lasts for as long as you keep your subscription active. If you cancel the subscription; then the discount is lost forever. We have only done one such sale like this before; so purchase wisely. Paypal only for this discount; as we have no other way to do recurring billing using crypto or other forms of payment at this point in time. The sale will go on for a few days from the time of this post.
Happy Cheating & a Blessed Easter.
Fixed the sale