This is a clientside tool that allows you to change the skin of your weapon, it is also external.
NOTE: I did not make this I just found it on another forum all credit goes to Flo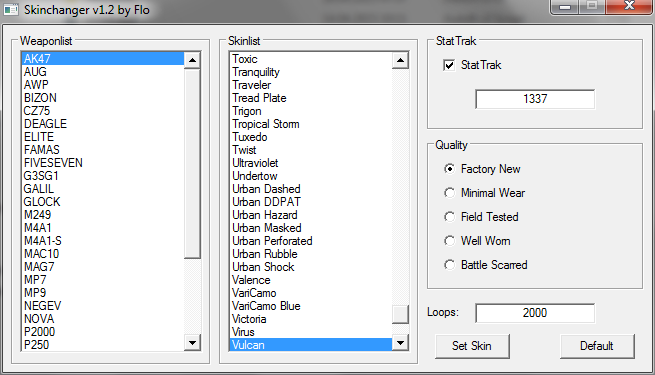 Download
Virus Scan (Virus Total) False Positives.
How to use
1. Download
2. Unzip
3. Start CSGO and Skinchanger (It doen't matter what you start first)
4. Choose a weapon and a skin and press "Set Skin". Press "Default" for your default weapon skin
5. Profit.​
NOTE: The lags when you change your weapon are normal. Its not a bug!
NOTE2: If the Skin does not set, set the Loop value higher!​
NOTE: Like all cheats, they can be detected but the chances are very slim use at your own risk. 
​
[video=youtube]https://www.youtube.com/watch?v=2iU6PbJvSzE[/video]
​