40 days with LC, 55 wins, and this happens, Thank you LC for awesome software u provide, and fuck other providers cuz i experienced cpl very quick vac bans.
Keep up the awesome work m8!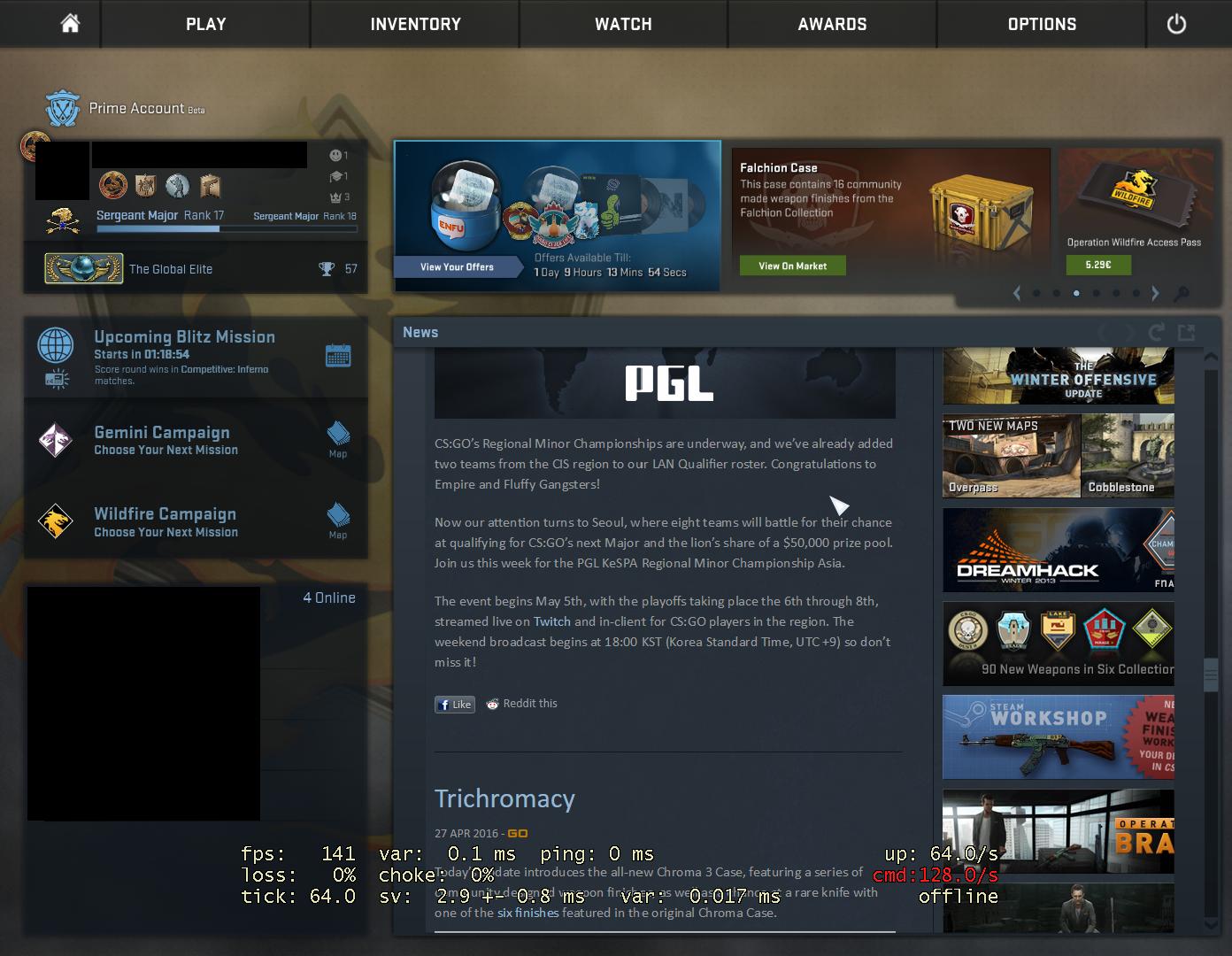 http://i.imgur.com/NI2obT6.jpg
oh, and heres a config if u want ultimate legit play to reach GLOBAL without worrying about overwatch, just dont shoot thru walls lol.
SETTINGS
[SETTINGS]
#[ESP]
wall=0
wall2=0
dlight=0
decay=0
autointensity=1
intensity=0
radius=50
dteam=1
crosshair=0
esp=1
box=2
boxsize=60
boxmulti=1
visesp=1
dis=0
hp=0
name=0
xesp=0
seq=0
pixel=0
pixelr=85
pixelg=107
pixelb=47
pixela=240
teamesp=1
disp=0
dispx=20
dispy=400
entity=0
noflash=0.00
weapon=0

listx=1750
listy=425
listesp=0


#[REGULAR AIMBOT SETTINGS]
aimbot=1
index=0
totalbones=3
cleandraw=0
smoothaim=1.50
multibone=0
bone=6
bone1=5
bone2=6
aimheight=0.00
aimright=0.00
fov=2.50
teamaim=1
aimdraw=1
aimkey=1
aimbutton=5
vischeck=1
aimclose=1
cdelta=10.00
shoot=0
rcsfov=50
aimtime=500
recoil=1.00
recoilx=1.00
recoilkey=1
recoiltype=4
nohop=1
recoilafter=1
ignorejumping=1
closefov=0.00
closefovdist=0.00

#[WEAPONCONFIG OPTION SETTINGS]
weaponconfig=0
weaponaimkey=0
weapontriggercfg=0
weapontriggerkey=0
flickshot=0
flickbutton=0x45
ammomgmt=1

#[TRIGGERBOT]
triggerbot=2
triggerdelay=80
triggerkey=4
triggerfov=0.00
triggerbones=0
stickyaim=0
triggerdraw=0
triggerbutton=4
triggerbone=4
triggerbone0=7
triggerbone1=5
triggerbone2=6
triggerbone3=0
triggerbone4=1
triggerbone5=2
triggerbone6=3
triggerbone7=8
triggerbone8=35
triggervischeck=2
triggerrandomdelay=1
triggermindelay=60

#[MISC]
antiscreenshot=1
engcheck=1
neww2s=0
menukey=0x2D
font=Verdana
fontsize=16
username=
password=
crosswidth=2
entdist=0
bhop=0
bhopkey=0x56
bhopmaxdelay=20
bhopmindelay=0

#[WEAPONCONFIGS - aimkey 1 is mouse1, aimkey 5 is mouse5]
pistol_aimbot=1
pistol_aimkey=1
pistol_fov=2.00
pistol_rcsfov=0
pistol_aimright=0
pistol_aimheight=0
pistol_smoothaim=0.50
pistol_supersmooth=0
pistol_multibone=0
pistol_bone=6
pistol_bone1=6
pistol_bone2=5
pistol_recoil=0.00
pistol_recoilx=0.00
pistol_crosshair=0
pistol_triggerbot=2
pistol_triggerbones=0
pistol_nohop=1
pistol_aimtime=300.00

deagle_aimbot=1
deagle_aimkey=1
deagle_fov=2.00
deagle_rcsfov=0
deagle_aimright=0
deagle_aimheight=0
deagle_smoothaim=0.00
deagle_supersmooth=0
deagle_multibone=0
deagle_bone=6
deagle_bone1=5
deagle_bone2=4
deagle_recoil=0.00
deagle_recoilx=0.00
deagle_crosshair=0
deagle_triggerbot=2
deagle_triggerbones=0
deagle_nohop=1
deagle_aimtime=300.00

sniper_aimbot=1
sniper_aimkey=5
sniper_fov=2.00
sniper_rcsfov=0
sniper_smoothaim=5.00
sniper_supersmooth=4
sniper_multibone=1
sniper_bone=5
sniper_bone1=6
sniper_bone2=5
sniper_aimheight=0
sniper_recoil=0.00
sniper_recoilx=0.00
sniper_crosshair=0
sniper_triggerbot=2
sniper_aimright=0
sniper_triggerbones=0
sniper_nohop=0
sniper_aimtime=500.00


autosniper_aimbot=1
autosniper_aimkey=1
autosniper_fov=4.00
autosniper_rcsfov=10
autosniper_aimright=0
autosniper_aimheight=0
autosniper_smoothaim=5.00
autosniper_supersmooth=8
autosniper_multibone=2
autosniper_bone=4
autosniper_bone1=6
autosniper_bone2=5
autosniper_recoil=1.00
autosniper_recoilx=1.00
autosniper_crosshair=1
autosniper_triggerbot=2
autosniper_triggerbones=0
autosniper_nohop=0
autosniper_aimtime=1000.00

rifle_aimbot=1
rifle_aimkey=1
rifle_fov=2.00
rifle_rcsfov=25
rifle_aimright=0
rifle_aimheight=0
rifle_smoothaim=5.00
rifle_supersmooth=8
rifle_multibone=1
rifle_bone=5
rifle_bone1=6
rifle_bone2=5
rifle_recoil=1.00
rifle_recoilx=1.00
rifle_crosshair=0
rifle_triggerbot=2
rifle_triggerbones=0
rifle_nohop=0
rifle_aimtime=1250.00

smg_aimbot=1
smg_aimkey=1
smg_fov=2.00
smg_rcsfov=25
smg_aimright=0
smg_aimheight=0
smg_smoothaim=5.00
smg_supersmooth=8
smg_multibone=1
smg_bone=5
smg_bone1=6
smg_bone2=5
smg_recoil=1.00
smg_recoilx=1.00
smg_crosshair=0
smg_triggerbot=2
smg_triggerbones=0
smg_nohop=0
smg_aimtime=1250.00

shotgun_aimbot=1
shotgun_aimkey=1
shotgun_fov=2.00
shotgun_rcsfov=0
shotgun_aimright=0
shotgun_aimheight=0
shotgun_smoothaim=4.00
shotgun_supersmooth=8
shotgun_multibone=1
shotgun_bone=4
shotgun_bone1=6
shotgun_bone2=5
shotgun_recoil=0.00
shotgun_recoilx=0.00
shotgun_crosshair=0
shotgun_triggerbot=2
shotgun_triggerbones=0
shotgun_nohop=1
shotgun_aimtime=500.00

pistolhp_aimbot=1
pistolhp_triggerbot=1
pistolhp_bone=6
pistolhp_bone1=5
pistolhp_bone2=4
pistolhp_bone3=3
pistolhp_bone4=2
pistolhp_smoothaim=5.00
pistolhp_fov=3.00
pistolhp_multibone=1
pistolhp_aimheight=1
pistolhp_aimright=1
pistolhp_aimkey=3
pistolhp_recoil=1.00
pistolhp_recoilx=1.00
pistolhp_triggerbones=3
pistolhp_crosshair=1
pistolhp_supersmooth=8
pistolhp_rcsfov=35
pistolhp_nohop=0
pistolhp_aimtime=0.00
pistolhp_shoot=0
pistolhp_randomspot=3

grenades_aimbot=0
grenades_triggerbot=0
knife_aimbot=0
knife_triggerbot=0

pistol_closefovscoped=0
pistolhp_closefovscoped=0
deagle_closefovscoped=0
sniper_closefovscoped=0
autosniper_closefovscoped=0
rifle_closefovscoped=0
smg_closefovscoped=0
shotgun_closefovscoped=0
pistol_recoilafter=1
pistol_triggerkey=0
pistolhp_recoilafter=0
pistolhp_triggerkey=0
deagle_recoilafter=0
deagle_triggerkey=0
sniper_recoilafter=0
sniper_triggerkey=0
autosniper_recoilafter=0
autosniper_triggerkey=0
rifle_recoilafter=1
rifle_triggerkey=0
smg_recoilafter=0
smg_triggerkey=0
shotgun_recoilafter=0
shotgun_triggerkey=0



pistol_closefov=0.00
pistol_closefovdist=0
pistol_triggerdelay=0
pistol_triggerrandomdelay=0
pistol_triggermindelay=0
pistol_tfov=0.00
triggerbone253886625=5
pistolhp_closefov=1.00
pistolhp_closefovdist=0
pistolhp_triggerdelay=0
pistolhp_triggerrandomdelay=0
pistolhp_triggermindelay=0
pistolhp_tfov=1.00

deagle_closefov=2.00
deagle_closefovdist=0
deagle_triggerdelay=0
deagle_triggerrandomdelay=0
deagle_triggermindelay=0
deagle_tfov=0.00

sniper_closefov=14.00
sniper_closefovdist=10
sniper_triggerdelay=180
sniper_triggerrandomdelay=1
sniper_triggermindelay=120
sniper_tfov=1.00

autosniper_closefov=5.00
autosniper_closefovdist=0
autosniper_triggerdelay=0
autosniper_triggerrandomdelay=0
autosniper_triggermindelay=0
autosniper_tfov=0.00

rifle_closefov=7.00
rifle_closefovdist=18
rifle_triggerdelay=100
rifle_triggerrandomdelay=1
rifle_triggermindelay=60
rifle_tfov=1.00

smg_closefov=2.00
smg_closefovdist=0
smg_triggerdelay=40
smg_triggerrandomdelay=1
smg_triggermindelay=20
smg_tfov=0.00

shotgun_closefov=4.00
shotgun_closefovdist=0
shotgun_triggerdelay=0
shotgun_triggerrandomdelay=0
shotgun_triggermindelay=0
shotgun_tfov=0.00

pistol_aimonshoot=0
pistol_triggerbone0=4
pistol_triggerbone1=7
pistol_triggerbone2=13
pistol_triggerbone3=2
pistol_triggerbone4=1
pistol_triggerbone5=34
pistol_triggerbone6=35
pistol_triggerbone7=33
pistol_triggerbone8=32
pistolhp_aimonshoot=0
pistolhp_triggerbone0=5
pistolhp_triggerbone1=6
pistolhp_triggerbone2=4
pistolhp_triggerbone3=5
pistolhp_triggerbone4=5
pistolhp_triggerbone5=5
pistolhp_triggerbone6=5
pistolhp_triggerbone7=5
pistolhp_triggerbone8=5
deagle_aimonshoot=0
deagle_triggerbone0=6
deagle_triggerbone1=5
deagle_triggerbone2=4
deagle_triggerbone3=3
deagle_triggerbone4=5
deagle_triggerbone5=5
deagle_triggerbone6=5
deagle_triggerbone7=5
deagle_triggerbone8=5
sniper_aimonshoot=0
sniper_triggerbone0=4
sniper_triggerbone1=6
sniper_triggerbone2=5
sniper_triggerbone3=2
sniper_triggerbone4=1
sniper_triggerbone5=34
sniper_triggerbone6=35
sniper_triggerbone7=33
sniper_triggerbone8=32
autosniper_aimonshoot=0
autosniper_triggerbone0=5
autosniper_triggerbone1=5
autosniper_triggerbone2=5
autosniper_triggerbone3=5
autosniper_triggerbone4=5
autosniper_triggerbone5=5
autosniper_triggerbone6=5
autosniper_triggerbone7=5
autosniper_triggerbone8=5
rifle_aimonshoot=0
rifle_triggerbone0=4
rifle_triggerbone1=3
rifle_triggerbone2=2
rifle_triggerbone3=6
rifle_triggerbone4=5
rifle_triggerbone5=6
rifle_triggerbone6=5
rifle_triggerbone7=5
rifle_triggerbone8=5
smg_aimonshoot=0
smg_triggerbone0=4
smg_triggerbone1=3
smg_triggerbone2=2
smg_triggerbone3=5
smg_triggerbone4=5
smg_triggerbone5=5
smg_triggerbone6=5
smg_triggerbone7=5
smg_triggerbone8=5
shotgun_aimonshoot=0
shotgun_triggerbone0=5
shotgun_triggerbone1=5
shotgun_triggerbone2=5
shotgun_triggerbone3=5
shotgun_triggerbone4=5
shotgun_triggerbone5=5
shotgun_triggerbone6=5
shotgun_triggerbone7=5
shotgun_triggerbone8=5



#[EXTRA BONES - change totalbone value to include these, more can be added in the same format]
bone3=1
bone4=2
bone5=3
pistol_bone3=1
pistol_bone4=2
pistol_bone5=3
deagle_bone3=1
deagle_bone4=2
deagle_bone5=3
sniper_bone3=1
sniper_bone4=2
sniper_bone5=3
autosniper_bone3=1
autosniper_bone4=2
autosniper_bone5=3
rifle_bone3=1
rifle_bone4=2
rifle_bone5=3
smg_bone3=1
smg_bone4=2
smg_bone5=3
shotgun_bone3=1
shotgun_bone4=2
shotgun_bone5=3
supersmooth=4
randomspot=0
aimonshoot=0
closefovscoped=0
Last edited: